Putting Together an Effective Legal Strategy Session
People often refer to the legal operations function as a "legal chief of staff." In many ways, that characterization fits really well. One of the key elements of being a chief of staff is supporting your department's daily operations. In order to do so effectively, you need to be clear on department strategy and ensure that everyone in the department is clear on the strategy as well. One of the best ways to drive this clarity and alignment across the group is to host an annual strategy session. As I mentioned in a prior post, it is helpful, although not absolutely mandatory, to time this session before your budget cycle so that you can ensure your budget supports the strategy of your department.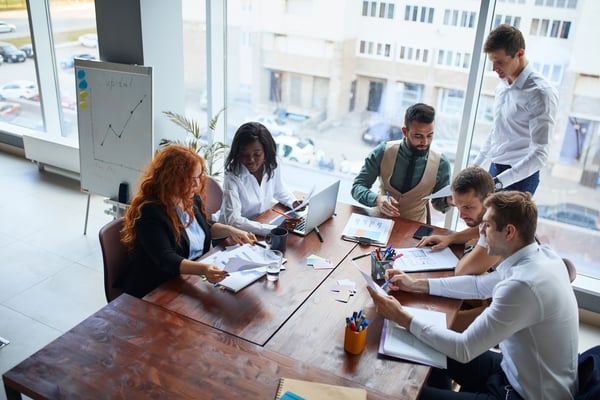 As a chief of staff, you should be highly involved in driving your department's annual strategy session. If you have never planned a strategy session or if you want some tips for improving their efficiency, this blog post will help you get there.
Step 1: Clarify Your Goals
The goals of this particular strategy session that we are discussing are to (1) align the team to the vision and mission for legal, and (2) determine what strategies the legal team will pursue in the upcoming year. The session will provide a foundation upon which to build a budget and department goals. If you are doing the session for a different purpose than mentioned in my prior post, you may have a different set of goals. It will be important to articulate those in the meeting invite and in the session itself. Make sure that everyone understands that you will be leaving the strategy session either having achieved those goals or with clear next steps on how to achieve those goals.
Step 2: Set Your Agenda
For your first session, I would recommend 6-10 hours in either one or two days. The larger the group, the longer you will need. I have created a draft agenda below with some background on each section and how long you should set aside.
Ice Breaker (45 minutes)
You need a group that feels comfortable together so that people are encouraged to share their ideas. You can set the stage by starting with introductions and an ice breaker. For the ice breaker, a game or sharing some personal views or personal stories are effective.
This is a good place to invest time as it really gets people to open up and create a good dialogue that sets the foundation for the day. I would recommend investing 45 minutes here.
Mission & Goals (15 minutes*)
Start with your mission. First, repeat the company's mission and then your legal department's mission. Clarify how that legal department's mission supports the company mission.
Give a brief presentation of where the company is going in the next five years and what trends are expected for corporate legal departments.
Clarify your goals for the day.
*If your legal department doesn't have a mission statement yet, you could spend the first 45 minutes of the session creating one.
Strengths, Opportunities, Weaknesses, & Threats (SWOT) (1.5-3 hours)
Given the company and legal department trends, do a legal department SWOT analysis or update your SWOT from the prior year.
You should have one whiteboard or large paper for each section and take notes on each as people brainstorm.
Next, look at the four SWOT pages and ask what should we start, stop, or keep doing to take advantage of the strengths and opportunities and/or to shore up weaknesses and respond to threats.
If it is your first SWOT, it may take more time and you should take a break in between if you take longer.
Break (20 minutes)
Wrap Up (1 hour)
First, ask if there is anything that people believe should be a priority for the upcoming year that was not mentioned in the prior session.
Next, ask which of the ideas brainstormed in the earlier session need action in the upcoming year.
Finally, determine the priorities of those ideas and assign someone to draft a plan to execute each item. Identify when and how those plans will be communicated (either a follow-up meeting or a written communication).
Social (TBD)
Another opportunity for people to connect and a great way to wrap up the day and keep the team feeling cohesive is hosting a social (i.e. a happy hour, attending pub trivia, bowling, etc.).
Step 3: Identify Your Attendees
Keep the group small: 5-10 people. You want to target leaders in your department who have budgetary or decision-making authority. You may also want to consider any people who have special expertise related to any of the topics in the agenda.
Step 4: Assign Homework
There will be a lot of people's time invested in the session, so you want to make it productive and meet the goals. In order to do so, preparation is critical.
Here is what you should do before the session.
Prepare an ice breaker
Coordinate location, food, and materials
Assign people to the following sections, as appropriate:

Company and legal department mission
Company and legal department plans and trends over the next five years
Strengths, Opportunities, Weaknesses, Threats – assign one person to speak first in each of these categories

Share the agenda at least one week in advance and ask everyone to be prepared with their thoughts
Put together the final slides
Step 5: Follow Up
As the moderator, your role will be to keep time, take notes, and call out participation. Before you leave the session, make sure each action item has an assigned owner. Set out a date by which that person will follow up. Also determine, with the group, how often you will revisit the items. Some items can be revisited annually at the following year's session. Other items will need sooner follow up.
You should send out notes, including action items, as soon as possible after the session. You should also communicate updates, as appropriate, for each of the action items.
By following these steps, I hope you will have a productive and engaging annual strategy session. If you have other tips that work well for you or have any questions, don't hesitate to reach out to me at djones@lighthouseglobal.com.