All Aboard! Best Practices for Standardizing and Socializing Your eDiscovery Program
Watch it on demand by clicking here.
Standardizing your ediscovery program can be a huge benefit to you and your team. With a well-rounded program, you are able to pressure test and layer in repeatable and trackable processes at each stage of the EDRM. This will result in a lower overall cost of ediscovery and the ability to more accurately forecast spend from matter to matter. Your program will reduce risk, and increase quality, efficiency, and consistency. You will also have the advantage of program-wide metrics and analysis, leading to knowledge that will empower you to make better and more informed litigation and investigation decisions early on, which in turn leads to better outcomes and greater defensibility. Finally, with your program-wide data tracking you will be able to showcase true ROI and other key metrics. It sounds pretty good, right? So, why doesn't everyone standardize their ediscovery program?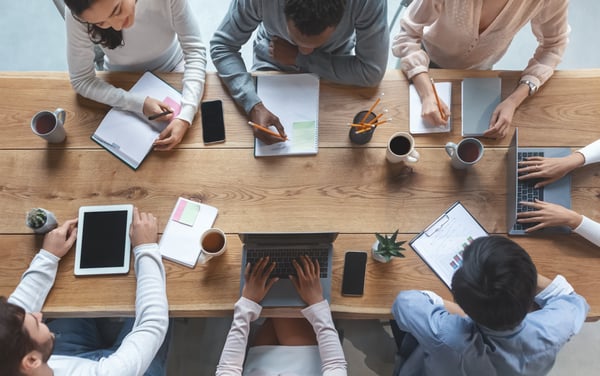 It can be a challenge. There are several hurdles that one may face when trying to socialize and drive the adoption of their program. For example, lack of alignment across key stakeholders and the challenges of trying to build a program while also managing the pressures of ongoing litigation deadlines. You may also have to invest more time and potentially more cost upfront, which can be a resourcing challenge, and you may have to redefine efficiency across multiple teams. Managing expectations across key stakeholders is critical to building a successful program. Change doesn't happen overnight.
How do you go about overcoming these challenges and standardizing your program? I've summarized some tips and best practices below for socializing, implementing, and getting your ediscovery program to be accepted as the standard both within your organization and beyond.
Getting Started
To begin, build one thing at a time. It is important not to bite off more than you can chew. Start with one project, implement it, and carefully review the results. If it is successful, drive adoption internally, and once it is adopted you can get started on the next project or piece of the program. Be sure all of your key stakeholders are involved early on and set up weekly or even monthly strategy sessions with these stakeholders to ensure that everyone has a seat at the table and a voice in program development decisions. Finally, documentation is your single source of truth. Be sure to think about what you are documenting, where you are storing it, when it should be evaluated for updates, and how it will be circulated after these updates are made. More on driving a successful ediscovery project can be found in this article, Staying on Pointe: Key Lessons eDiscovery Professionals can Learn from Ballet.
Ensuring the Right Audience
As I mentioned above, you need to be sure to involve all key stakeholders when driving the standardization of your ediscovery program, but how do you make sure you have the right audience? It is different for everyone and will depend on your organization. Typically, I would recommend that you involve your legal operations and finance teams, as well as any other teams with ediscovery stakeholders. Once you have these folks identified, set up that recurring strategy meeting.
Showing ROI
When it comes to showing ROI you want to be sure to pick what will make an impact within your company. Whether that be risk reduction, cost reduction, efficiency gains, or something else, you want to focus on what matters at your organization. This is where the documentation I mentioned above comes into play. Be sure you are tracking the metrics and results you would like to report on and format them in graphs, charts, and high-level stats that your key stakeholders can take away and share with their teams. Lean on your providers to help you pull metrics and come up with creative ways to display ROI across your program. It is also important to note that your ROI focus may shift over time, so be sure to remain flexible and check-in with leaders on a bi-annual or annual cadence.
Socializing & Driving Adoption
So, you know how to get started, who to involve, and how to show ROI, but how do you socialize and drive adoption? This is the hardest part and will require flexibility. It is important not to design and drop. You have to continue to reiterate the program and processes consistently. Document your processes, track your results, and make sure you build in a regular feedback loop. Ensure you have support from the right people. This can include your internal teams, outside counsel, vendor(s), etc., and can vary depending on your organization. Be open to feedback and revisions as they come along, document those updates, and share them out.
To summarize, when looking to standardize and socialize your ediscovery program, remember to:
involve the right folks early on;
build one thing at a time;
document the processes;
show meaningful ROI; and
be open to feedback - a successful program evolves!
To discuss this topic further, please feel free to continue the discussion by emailing me at SBarsky-Harlan@lighthouseglobal.com.