Vendor Selection Best Practices – Understanding the Key Ingredients to RFP Success
Watch it on demand by clicking here.
While 2020 has been a year of unexpected twist and turns, it may not be surprising to hear that all this uncertainty has led to a sharp increase in companies issuing RFPs. Between cybersecurity concerns, cost drivers due to COVID-19 related layoffs, an increase in the need for remote capabilities, and frankly, more time to take on specialized projects and evaluations – ediscovery teams on all sides are starting to think about making a change. But, what is most important when issuing an RFP? How do you structure your evaluation to set yourself up for success in comparing what seems incomparable? In this blog, I will share the key elements to ensure you get the most out of your RFP.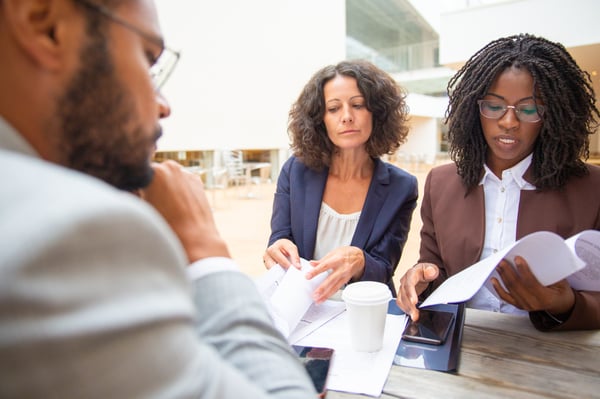 Structuring Your RFP
The structure of an RFP is often where you make or break how smoothly and successfully your evaluation process is going to run. The main difficulty many organizations face when it comes to structure is that there truly is no "one size fits all," and making an apples-to-apples comparison is often an impossible exercise. The best way to set yourself up for success is to first make sure you have the right team assembled internally throughout the evaluation from beginning to end. Having stakeholders from all over the organization ensures you're getting breadth and depth of requirements met, and goes a long way when it comes to picking a provider that is going to work well with your organization as a whole. When writing your questions, make sure that the format is organized in a way where you can easily decipher results and be sure to narrow your focus. Only include questions that are going to provide valuable results that really matter to your team. You want to find that sweet spot of getting a robust idea of what a provider can bring to the table, without burying yourself in trivial questions that yield hundreds of pages per response from your evaluated providers.
Comparing Results
Speaking of provider responses, many organizations struggle with the methodology of reviewing responses and evaluating providers. What areas of focus to place the most value on are largely going to be unique to each organization, but there are general rules of thumb that you should always look for in a partner. Cost is always a major factor, but often the most inexpensive provider is not always the best option. Instead, you should be looking for a provider that comes up with creative and flexible pricing models that are tailored to your organization's needs. You should also vet your providers not just on their current technologies, but how they plan to adapt to the ever-changing nature of the industry. Do they have a technology roadmap and do they have an open dialogue with the development teams of the third-party tools they leverage?
Another factor that you should absolutely pay close attention to is the compatibility of your company cultures. Getting to know the project managers who will actually be supporting your team is a must, and ask the difficult questions around how they escalate issues and deal with times of crisis. When you're in the throes and trenches of that one matter that just seems cursed, you'll be thankful that you took the time to really understand how your partner reacts and adapts to hardships. Lastly, you want to pick a provider that has a solid track record of success and clients that enjoy working with them. Take the time to ask for references and thoroughly vet those references. Understand why their current clients selected them as a provider and why they continue to work with them.
Tips to Remember
RFPs don't have to be a daunting exercise, and if you've decided that now might be the right time for your organization to make a change, remember these key takeaways for success:
Ensure you have a project plan in place – the more planning, the more success (i.e. a team, a structure, and your team's differentiation points).
Ask about flexible pricing structures. The lowest cost is not always the best choice.
Be sure innovation is at the forefront of the provider's mind. Are they forward-looking, adopting new technology, have a roadmap, and in contact with best-in-class, third-party solutions?
Finally, company culture matters! Ensure you click with the provider.
To discuss this topic more, please feel free to reach out to me at MaKing@lighthouseglobal.com.