Top Tips for Staying Productive and Connected While Working From Home
Co-Authored by Nikki MacCallum & Duval Miller
Watch it on demand by clicking here.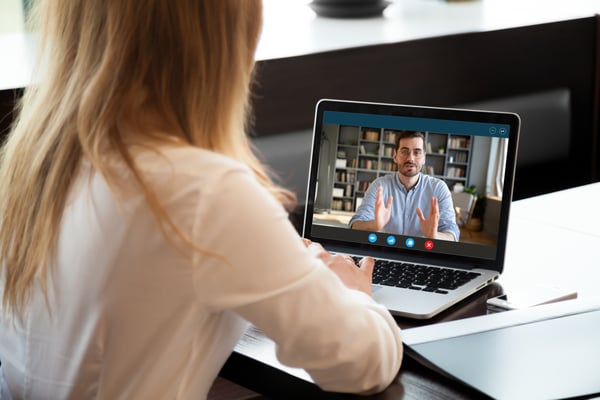 Given the current state of the COVID-19 pandemic, most non-essential businesses around the world have transitioned to a remote working environment. At Lighthouse, over 50% of our workforce was "global ambassadors" prior to COVID-19, so we're lucky to be equipped with the experience to make the transition a smooth one for the rest of our organization. Here are some tips and tricks we've learned to help you maintain balance and make remote work more successful:
Change Management: Adjusting to the Reality of Working from Home
Transitioning to working from home can be disruptive as you adjust to the elimination of the physical separation between work and home.
Start your day off right - Morning rituals become more important than ever in setting your day up for success. One of the biggest challenges of remote work is how the lines between your personal and professional lives become blurred. Start your day with something non-work related like a workout, meditation, watching television, listening to a podcast, or even singing in the shower (yes, you should still shower).
Dress for success – It may also help to continue to dress as if you're going into the office rather than going straight from your pajamas to your computer. Feeling like your "work self" can make you more productive and organized, especially when facing the new normal of nonstop video calls with your colleagues.
Make your bed - Another helpful trick is to make your bed every morning. As author Charles Duhigg references in The Power of Habit, making your bed every morning correlates to better productivity. As tempting as it may be to leave things messy, something as small as making your bed can make your day feel less chaotic.
Qualify your commute - Good news – your commute just got shorter. That said, it can help augment the separation between professional and personal life if you identify your commute, even if it is just from your bed to your couch.
Designated work space – Set up a designated work space in a comfortable location in your home for optimized focus. Don't forget to ensure the space is something you can easily walk away from because sometimes you'll need to "leave it at the office." This space can be small and minimal as long, but keep it consistent.
Befriend Technology: Staying Connected and Remaining Productive
To be an effective remote employee, you must get comfortable with technology.
Know your IT professional - Have the name and contact information for your IT professional written down somewhere that is not on your phone or computer. That way if your devices go down, you'll have that contact information easily accessible.
Have the right equipment – Don't forget to connect with your organization and get set up with the right hardware, headsets, desk setup, monitors, etc. You should also become familiar with the applications that are used for conference calls and chats if you're not already.
Keep connectivity in mind - Make sure to download all necessary applications on your phone as a backup in the event that there is an issue with connectivity on your laptop.
Remember when you're on camera - Do yourself a favor and always assume your camera is on. It's really hard to come back from coworkers seeing you without pants on. Trust us, it can happen to you!
Maximize Efficiency: Setting Boundaries and Managing Time
Keep in mind we're all in different scenarios in our home life, each presenting a different set of challenges.
Set boundaries - Coordinating with a significant other who is also on calls can be a major roadblock, and having to homeschool your children on top of maintaining your job is difficult. Regardless of whom you're sharing space with, set boundaries around when you're in the office and not to be disturbed.
Value Time - It's also critical to respect and value everyone's time, including your own. Before scheduling a meeting, ask yourself, is this meeting necessary? Can this be sorted out via email?
Schedule non-work tasks - Schedule your day to include non-work related tasks. This will help with separating work life from personal life.
Reframe Your Goals - Considering setting weekly goals versus daily goals as another great tactic. This shift in mindset can be very helpful and the less frustrated you are, the more productive you become.
Know Your Super Powers - Think about staying in tune with your prioritization instincts. Does family supersede work? Does work come before everything? On the flip side, identify and capitalize on your remote super powers. Do you have the ability to be laser focused despite distractions? Are you strong under pressure? Lean on your superpowers!
Acknowledge Disruptions - There will undoubtedly be a lot of real-life distractions that pop up as a result of working from home. Acknowledge those disruptions and don't pretend they're not happening.
Finally, stay engaged. Try scheduling virtual lunches, coffees, and happy hours. Just because you're no longer in the same room as your colleagues doesn't mean you still can't hang out with them. One fun way Lighthouse keeps everyone connected across locations is a weekly company-wide virtual bingo game. So even when we're not physically together, technology allows us to stay connected and able to collaborate. Above all, as you adjust to working from home, prioritize self-care, be kind, be creative, and keep your sense of humor intact. We're all only human, after all.
Looking for top tips focused on managing remote teams? Check out this article entitled, Best Practices for Leading Remote Workforces in eDiscovery. To discuss this topic further please feel free to reach out to us at NMacCallum@lighthouseglobal.com and dmiller@lighthouseglobal.com.