Now Live! Season Three of Law & Candor
Season three of Law & Candor, the podcast wholly devoted to pursuing the legal technology revolution, is now available for your listening pleasure. Click the image below to binge season three now or keep scrolling for more details on the latest season.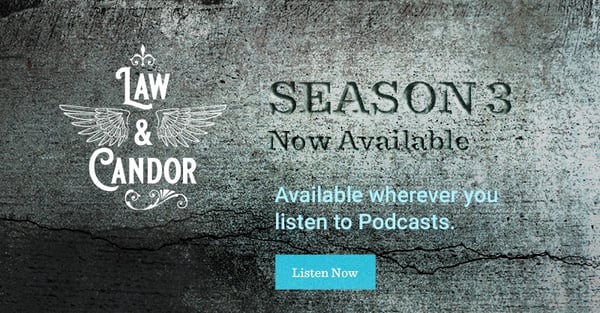 Law & Candor co-hosts, Bill Mariano and Rob Hellewell, have done it again. They have developed yet another riveting season of content by bringing on industry experts from AstraZeneca, Dentons, Dignity Health, Goulston & Storrs, GSK, and Lighthouse to discuss hot topics within the ediscovery, compliance, and information governance space. Season three is filled with valuable takeaways, practical tips, and lots of banter along the way.
See the season three episode lineup below:
Tackling Big Data Challenges
Data Privacy in a Post-GDPR World: Facing Regulators and Ensuring Compliance Through Rock-Solid Information Governance Practices
The Future of On-Demand SaaS Software for Small Matters – A Self-Service Model Story
New Efficiency Gains in TAR 2.0 and CMML Revealed
How Microsoft 365 and GDPR Are Driving a Proactive Approach to eDiscovery Across the Globe

eDiscovery Shark Tank - What's Worth Your Investment in 2020?
Each episode is bingeable and available on your podcast platform of choice including Apple, Spotify, Stitcher, and Google. Check them out now or bookmark them and listen later. Follow the latest updates on Law & Candor and join in the conversation on Twitter.
Catch up on past seasons by clicking the links below:
Season 1
Season 2
For questions regarding this podcast and its content, please reach out to us at info@lighthouseglobal.com.