Now Live! Season Four of Law & Candor
We're excited to announce that season four of Law & Candor, the podcast wholly devoted to pursuing the legal technology revolution, is now available. Click the image below to binge season four now or keep scrolling for more details on the latest season.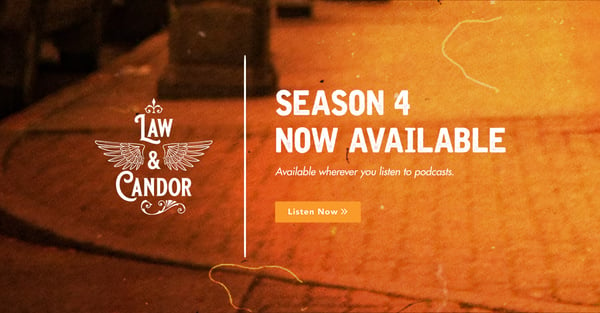 Co-hosts, Bill Mariano and Rob Hellewell, are back for season four of Law & Candor with six easily digestible episodes that cover a range of hot topics from cybersecurity to privilege tools. This dynamic duo, alongside industry experts, discuss the latest topics and trends within the ediscovery, compliance, and information governance space as well as share key tips for you and your team to take away. Check out the latest season's lineup below:
Emerging Data Sources: Get a Handle on eDiscovery for Collaboration Tools
Myth Busters: The Managed Services Edition
Legal Operations 101: Skills for Success
eDiscovery Program Starter Pack: Uncover Key Ways to Build an Effective & Efficient eDiscovery Program
Managing Cybersecurity in eDiscovery

Take the Mystery out of Machine Learning: Success Stories from Real-Life Examples and How Data Scientists Impact eDiscovery
Each episode is bingeable and available on your podcast platform of choice including Apple, Spotify, Stitcher, and Google. Follow the latest updates on Law & Candor by subscribing on the podcast home page and join in the conversation on Twitter.
Catch up on past seasons by clicking the links below:

Season 1
Season 2
Season 3
Special Edition: Impacts of COVID-19
For questions regarding this podcast and its content, please reach out to us at info@lighthouseglobal.com.